NEURODIAM project
The goal of NEURODIAM project is to develop full diamond implant for neuronal applications. The objectif is to solve  two major challenges:
– increase the lifetime of implant by a specific packaging,
– reduce the size of the electrodes to be equivalent to the neurones size (10 μm) without degradation of noise and consequently increase the electrode density for a fine mapping of the cortex.
To avoid performance drift of the implant, a new completely hermetic packaging solution will be developed based on the last developments of micro and nano structuration of diamond layer that combines conductive and intrinsic synthetic diamond.
Neuronal implants give a new hope to help patients to recover their functional abilities
A few years ago, repair human was only science fiction. Today it has become a reality. Several Research teams and companies have been successful in restoring neuronal disorders using implanted miniaturized devices.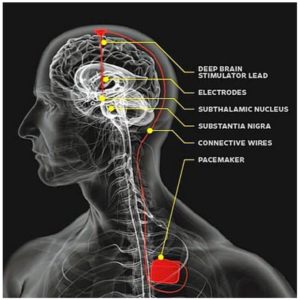 Patients suffering from Parkinson's disease are implanted by an active neuroprosthetic device. The implant is in charge to stimulate a specific area in the brain to stop tremors (Deep Brain Stimulation : DBS). This sysem composed of stimulator that deliver specific electrical stimulations to electrodes.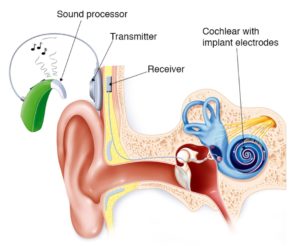 Concerning deaf patient suffering from profound hearing loss, a cochlear implant can be used to recover the sense of sound. The sound captured by sound processor , is coded in electrical signal. This electrical signal transmitted by wireless comunication to implant via a small antena. Electrical signal is decoded to stimulate the cochlea's hearing nerve via the electrodes, what induce a response in the brain. 
Today, these two technologies are commonly used in the world to help patients in their daily life.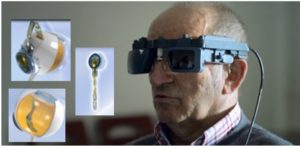 But we still can go further. with retinal implant, it is now possible to help blind people to recover visual perception. Implant is placed directly in contact with retina and after several weeks of training, some patients are able to read, after having lost sight during several years.  A small camera on the glasses, is in charge to capture pictures and a image processing is done to convert these images to elecrical signal. This signal is transmited by wireless, to electric part that is fixed on the eye via an antenna. The electrical signal is converted to do stimulation of electrodes that are in contact with retina. This stimulation produce activation of neuronal cells of retina. This signal is propagated by optical nerve to brain what produce a visual perception.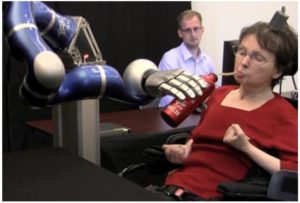 Concerning paraplegic or tetraplegic, it has been demonstrated that with an implant placed in  the surface of the cortex or inserted in it (on few millimeters), the patient can control the movement of a robotic arm or a pointer on computer just by thinking.  A computer decode neuronal activities recorded by implant and transform these signals to interact with external equipements (ex : robotic arm, wheelchair, computer, etc…) 
All these technologies offer a real hope for patient suffering from neuronal diseases or spinal cord injuries. But the implants need to be still improved as thinner, with more and smallest electrodes to interact more accurately with neuronal cells and an increased lifetime.
NEURODIAM Description
NEURODIAM project focuses in developing a fully new type of thin electrocorticography (ECoG) flexible implants. ECoG offers a way to restore brain functional disorders i.e. vision for blind patients, and to improve the life of tetraplegic patients. This is done by the use of implantable electrode arrays directly in contact with the brain cortex, either on the surface or penetrating the cortex of few millimeters. The implants are made of thin metal films for electrodes and tracks encapsulated in a polymer.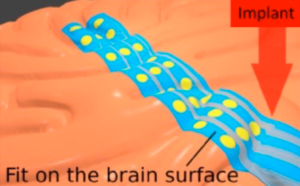 To further improve the next generation of implants, they must be soft and thinner to avoid adverse reaction from the body and to comply with the brain surface, and composed of more and smaller electrodes. Today the main drawback in achieving fabrication of such implant is the resulting implant lifetime. Indeed, we know that polymers are not hermetic materials and after several months inside the body, implant swells and the water migrating inside the polymer causes a degradation of implant metallic parts. Thin metallic electrodes could be also modified after several months of implantation and degradation would appear.
Conventional approach is based on adding an inorganic layer to slow water migration. The brittleness point is to ensure that this inorganic layer is continuous, without any default. If some pinholes appear in this layer, the protection will be not hermetic. A second brittleness point is located on the interface with the electrode material: if the protective material does not correctly cover the electrode, it creates a weak point and a pathway for the water to diffuse and alter the implant.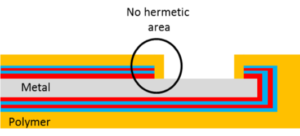 NEURODIAM project proposes a new approach by using a biocompatible conductive material chemically inert to water exposure: diamond. Yes, diamond can be electrically conductive! You only need to add dopant atoms like boron or nitrogen during its synthesis [Pleskov, et al 1999, 68, 416]. Moreover, Boron Doped Diamond (BDD) electrodes have been demonstrated to cover a wider potential window than reference materials like Platinum [J. Braz. Chem. Soc. vol.15 no.1 Feb. 2004]. Diamond is a material is very attractive for biomedical applications. It has been demonstrated to be biocompatible and even to enhance neuron development when diamond nanoparticles have been added on the surface where cells are growing [Bendali, Biomaterials 10/2015, Elsevier, 2015, Vol 67, pp.73-83.].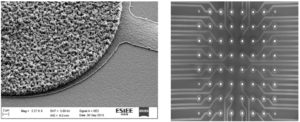 Finally, diamond has a high chemical resistance and is inert to corrosion by water and saline environment like inside the body. All these desirable properties make diamond the ideal candidate for long-time stable cortical implants.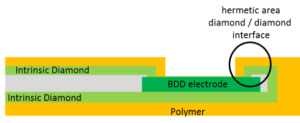 NEURODIAM implants will have 256 electrodes made of conductive diamond embedded in intrinsic diamond (patented). For practical reasons, the whole structure is temporarily encapsulated into a biodegradable polymer that will disappear several weeks or months after implantation.